Kverneland Onyx
Kverneland Onyx radrenser er det rette redskapet for bekjemping av ugrass mellom radene i korn så vel som i radvekster i stor skala og under alle forhold.
Høydepunkter
Strength and rigidity for accurate straight lines
Each element is working independently
Even depth control over the entire working width
Flexibility and high performance
Prepared for challenging conditions
Enkelte ugress har utviklet resistens mot ugressmidler, og kjemikalier vil bremse avlingsutviklingen. Dessuten har samfunnets aksept for plantepleieprodukter redusert. Det trengs altså et alternativ for effektiv ugrasbekjempelse under ulike forhold.
Mekanisk bekjemping i radvekster og korn er et effektivt verktøy for sunn plantevekst som grunnlag for våre kunders avling og fortjeneste, samt for en trygg matproduksjon.
Kverneland Onyx tilpasser seg individuelle konsepter og et bredt spekter av bruksområder. Den justeres raskt for mange forskjellige avlinger og radbredder på grunn av rammedesignet. Dessuten kan arbeidsbredden utvides for å møte kravene til ulike felt- og gårdsstørrelser. Individuelle rader kan slås av og på.
Jevn dybde- og trykkkontroll er sikret over hele arbeidsbredden.
Kverneland Onyx kutter røttene til ugresset så nært plantene som mulig uten å skade avlingene ved å sikre den rette linjen innenfor raden. I tillegg, ved å lage sprekker på overflaten på visse jordarter etter regn, fremmer det frøfremveksten og gjenoppretter vann- og luftstrømmen, og stimulerer fysisk-kjemiske reaksjoner og jordliv. Ved å lage et isolerende lag som stopper den kapillære stigningen av vann til overflaten, øker den mekaniske lugrass bekjempelsen også vannreserven.
For drift i større arbeidsbredder og/eller utfordrende forhold, er radrenseren klar for ekstra kontroll og veiledning av Kverneland Lynx kamera.
Onyx-serien består av 3 modeller definert av deres kobling:
Onyx 2000 and Onyx 2000F
Med standard kobling for å koble til Lynx samt direkte til en traktor.
Onyx 3000 and Onyx 3000F
Med kort 3-punkts kobling for å forbedre nøyaktigheten og for å tillate allsidige kombinasjoner.
Onyx 4000 F
Med integrert kobling for å ha en perfekt sammenheng mellom Onyx og Lynx, en forutsetning for å jobbe med denne brede rammen.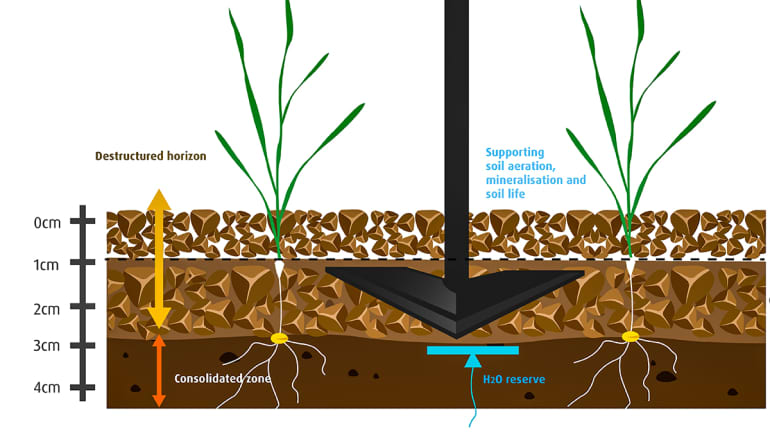 The Kverneland inter-row cultivator Onyx has been designed to easily achieve an accurate and consistent result in field. The weeding efficiency is achieved even at high working speed, with or without guidance system depending on the row width, starting from 12.5cm for cereals. The sturdy design of the ONYX ensures a long lasting accuracy and lifetime.
Selective weed control
The inter-row cultivator, ONYX offers a maximum in rigidity and adaptability. It is quickly prepared for larger fields by extensions. The parallelograms and working tools are rigid and rule out any wear and play. Stable and high accuracy are ensured even down to 12.5cm row width. The exclusive X-CONTROL pressure adjustment (max. 120kg) with a preloaded spring system transfers the load from the frame to the tines. There is a wide range of shares available in Carbide quality and a large variety of accessories in order to meet all sorts of conditions.
The large diameter of gauge wheel avoids any bulldozing effect. Each element is working independently. Fitted with GEOCONTROL, up to 13 sections are automatically lifted by ISOBUS.
Stimulating physico-chemical reactions and soil life
The shallow tillage at 2cm by the Kverneland Onyx improves aeration of the soil as a prerequisite to physicochemical reactions (humification, mineralisation of organic nitrogen). The crops will benefit from the plus of nutrients available with positive impact on the yield. By disrupting the topsoil's upper layer, the harrow restores the fluids, water, air, vertical flows and stimulates physicochemical reactions, mineralisation and soil life.
Protecting soil moisture
By the flat-bed weeding, the Kverneland Onyx creates an isolating layer to stop the capillary rising of water to the surface, protecting the soil moisture within the seed layer. "One pass of weeding is like two times watering," says a proverb. With view to the climate change, this is of major importance in dry areas and a general benefit for the crop's start and growth.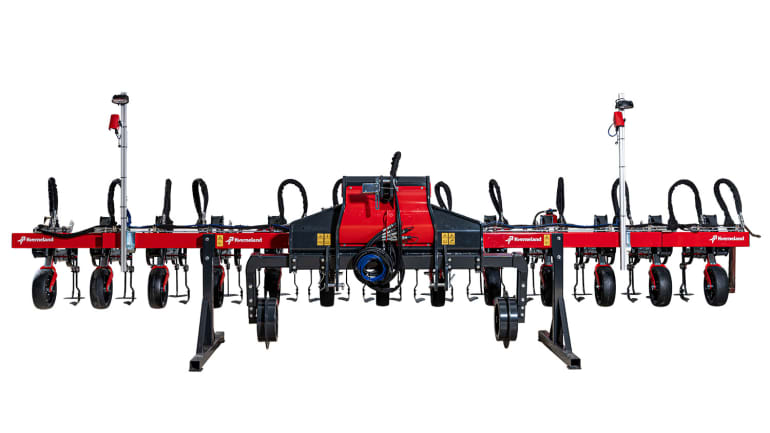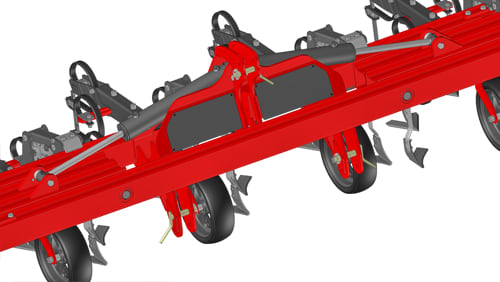 The Kverneland inter-row cultivator, ONYX with the Double-H shaped frame offers a maximum in rigidity and adaptability. Ready to be upgraded by extensions, the frame is quickly prepared for larger fields and farms.
Double-H frame
The Double-H shaped beam offers a maximal sturdiness and allows a firm fixation of the weeding elements. In addition, it increases the penetration force by transferring the load to the tines and shares. Its sturdy concept provides safe transport on roads. The ONYX is equipped with the standard version of Cat. II linkage. The spacing between the elements can be simple changed due to the universal frame system (UF System). Hydraulic and electrical interfaces are simple to connect with the push pull system and are easily accessible.
Three models
The product group of the Kverneland ONYX proposes three models, mounted and foldable: standard, compact and integrated according to their type of linkages. Each frame can be upgraded with frame extensions with different tube lengths of twice 120, 800 or 1450mm to obtain a width on the compact folding version of up to 7.70m and the wide folding version of up to 12.10m.
Pneumatic gauge wheel
Either two or four additional gauge wheels positioned in front of the middle frame bar or/and at the outer extensions ensure an optimal following of the ground contour, give more stability and a constant depth control especially with larger working widths. Depth setting is done mechanically via a clamp lockable crank on all wheels. A scale indicates the depth for precise adjustment.
Parking legs
Original parking legs are delivered as standard for storage of the machine. The parking legs allow an easy and safe coupling and uncoupling to the tractor.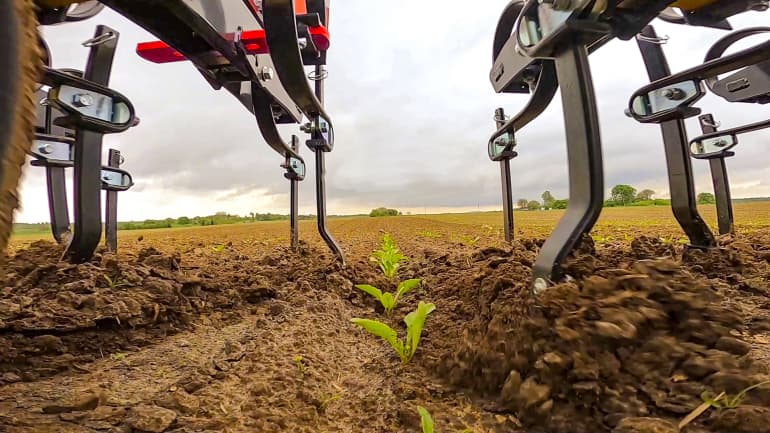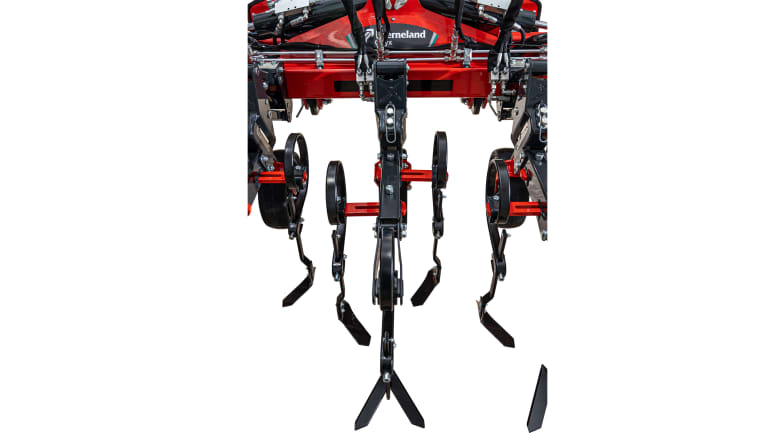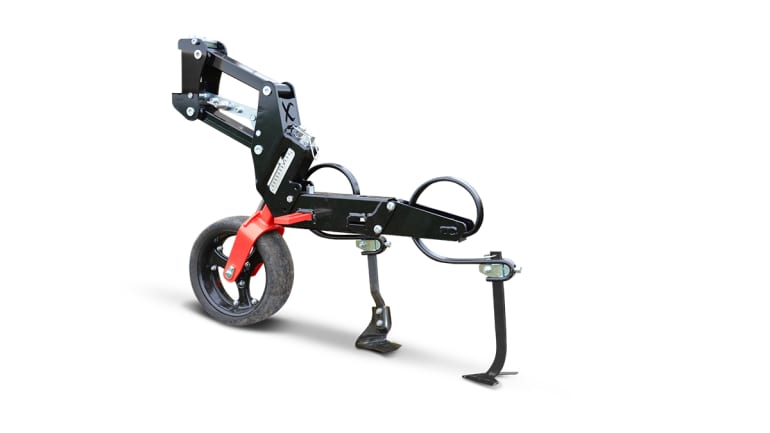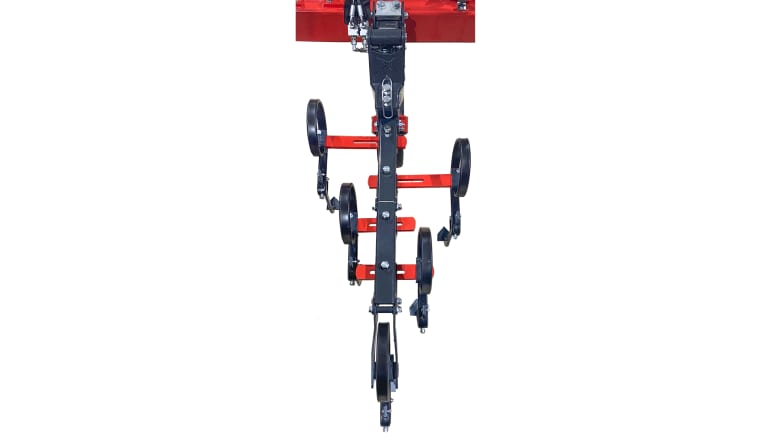 The Kverneland Onyx can be equipped with different tines and shares to meet all requirements and conditions. The aim is to protect the plant while suffocate and scalping the weeds as closely to the crops as possible, maintaining soil moisture by shallow tillage and moving the soil as less as necessary.
The height adjustable straight A-tine without vibration effect with either A-shaped flatbed weeding or L-shape lateral adjustable shares ensure shallow tillage with precise scalping of the weed and can be used in all crops. The L-shares which are available in left and right version limits soil projections on young crops and are mounted on tines positioned close to the seeding row. Several share widths and assembly options are available for row widths from 12.5 to 80cm.
Alternatively a semi-curved SC-tine with duck foot share (DF-share) or half duck foot share (HDF-share) allow deeper and more intensive soil tillage due to a higher vibrating effect. Optionally a ridger share positioned on the tine which is the closest to the sowing row of the crop and guides the soil flow directly to the sowing line. It is particularly suitable for developed higher crop vegetation to avoid suffocation of crop but not of the weed in the line.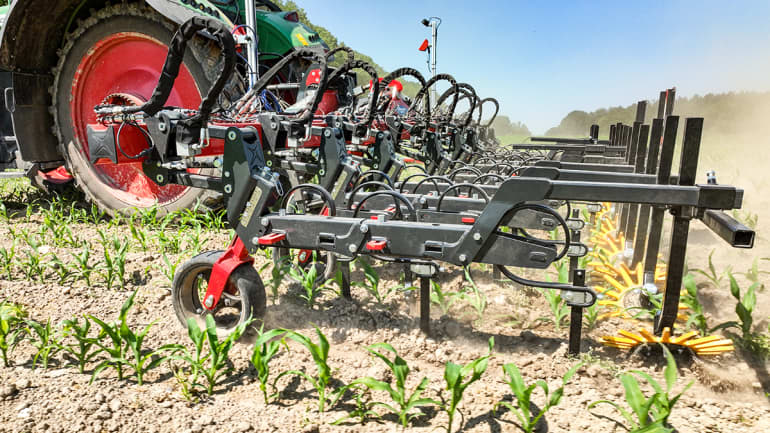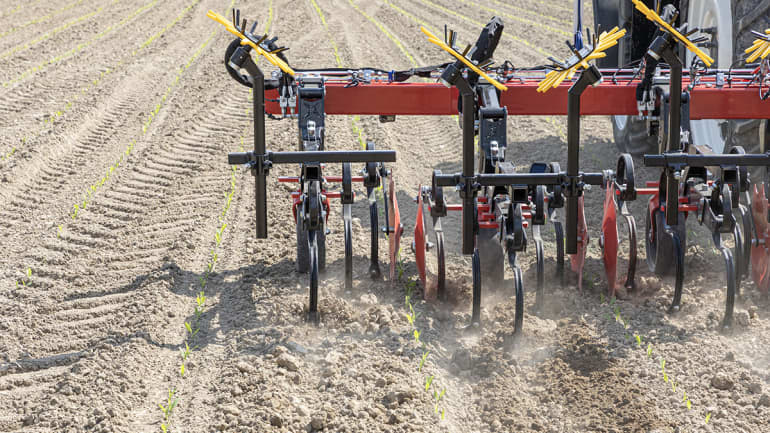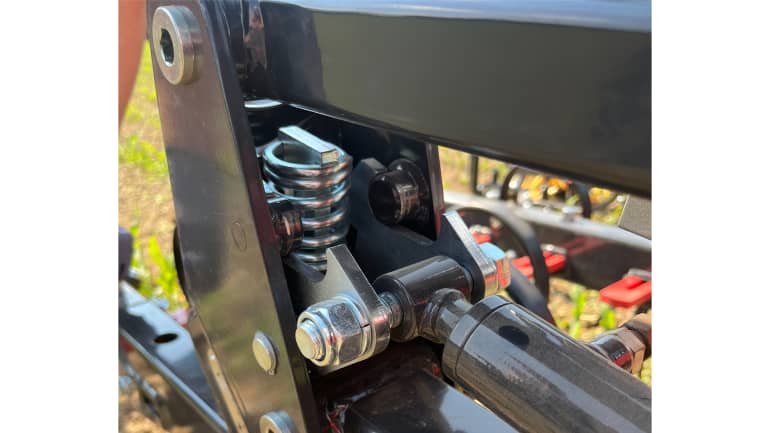 The Kverneland Onyx features high quality with long lasting components. Thus, the Onyx inter-row cultivator maintains its reliable and accurate  performance even under most demanding conditions.
X-CONTROL parallelogram
The parallelograms are equipped with conical pins and hardened polymer bushings which do not float and rule out any wear and play. This provides excellent stability and high accuracy from 12.5cm up to 80cm row width. The constant depth control over the entire working width ensures best results in row crops and cereals. A hydraulic or mechanical parallelogram version is available. They are adjustable in both depth and pressure.
Both versions are equipped with a preloaded double springs system, the exclusive X-CONTROL. This pre-loaded, spring-based system provides an individual load transfer from the frame to the tines of max. 120kg and eliminates any play or bouncing of the element. This gives the tines extra stability. The working depth stays absolutely constant, which is essential for the effectiveness of flatbed weeding at shallow depths without mixing the horizons.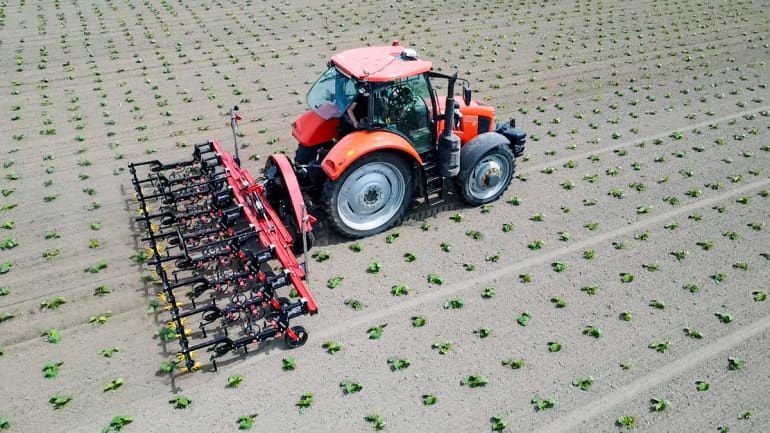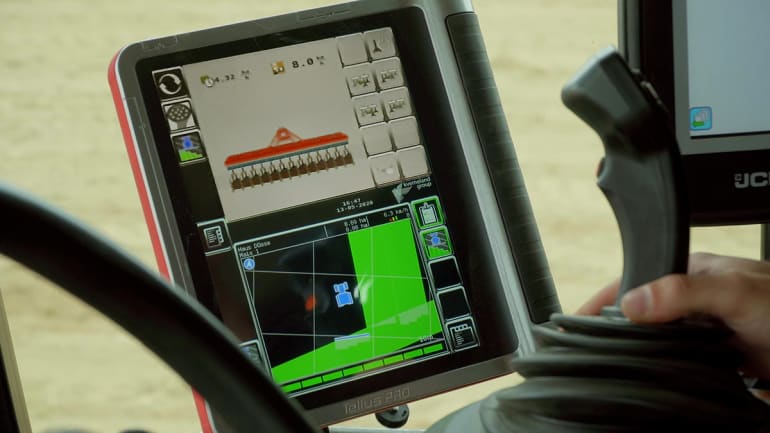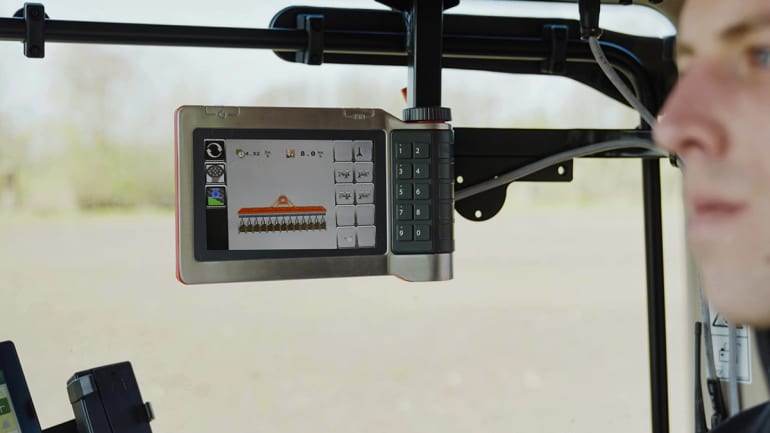 Mechanical weeding with GPS-GEOCONTROL function in combination with an ISOBUS compatible mechanical inter-row cultivator ONYX is a major step towards precision farming and cost savings. Each weeding element with hydraulic control is automatically lifted or lowered due to the Automatic Lifting System in exactly the right place. The one-to-one hydraulic adjustment of the parallelograms is steered from the terminal, weeding element by weeding element via GPS shut-off.
The aim is to best preserve the growing plants which can be especially challenging in triangular fields, on curved or odd-shaped headlands. You can also continue weeding at night since the GPS-GEOCONTROL switch on/off is precise and reliable.
When equipped with ISOBUS technology, the Inter-row cultivator Onyx is fully configurable and automated via the IsoMatch Tellus PRO terminal. It will relieve the driver's stress. By automatically dodging some predefined areas providing a true precision operation, even with poor visibility or high vegetation.
IsoMatch Tellus PRO – increasing productivity
The IsoMatch Tellus PRO 12-inch terminal provides you with the optimal solution for an all-in-one control system inside the tractor cab. It is the centre for connecting all ISOBUS machines, running precision farming applications and Farm Management Systems.
It offers everything you need to get the maximum out of your machines and crop, as well as cost savings in fertiliser, chemicals and seeds by using automatic section control and variable rate control. With the unique dual screen functionality it gives you the opportunity to view and manage two machines and/or processes simultaneously.
Easy control management
The IsoMatch Tellus GO+ is a costefficient 7-inch terminal, especially developed for managing the machine in a simple way. Easily set up the machine with the soft keys and simply use the hard keys and rotary switch for optimal control while driving.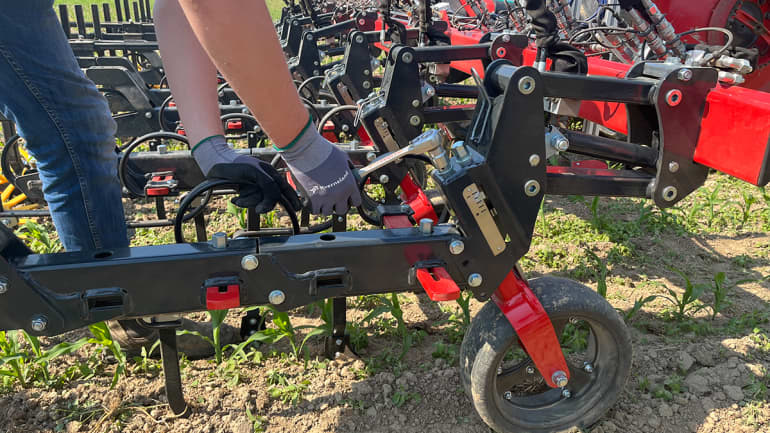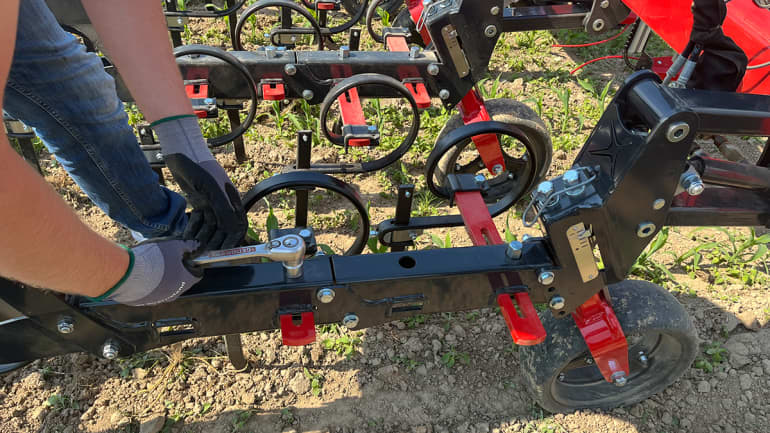 Kverneland always focuses on safe operation and user comfort. With all the adjustments being done without the need of special tools, a lot of precious time is saved! Adjusting the Kverneland ONYX is easily done with only one spanner (22mm). A wide range of configuration possibilities are available to meet all kind of requirements and conditions and to achieve best results.
1. With the hydraulic linkage of the tractor the implement is adjusted horizontally aligned with the complete frame.
2. The working depth is set-up by the gauge wheels of each element. The pressure adjustment at the parallelogram is regulated via a pre-loaded spring which transfers the weight to the tines and shares. Scales indicates the exact adjustment.
3. For the precise row width each tine can be adjusted to the side with sliding elements.
4. Finally, each additional accessory e.g. finger weeder, side plates, finger harrow, discs etc. or the feeler and camera must be fine-tuned to the field conditions and growth level.
5. The spring protection of the weeding element supports the penetration and ensures a constant working depth
Tekniske spesifikasjoner
Last ned brosjyre
Model

Onyx 2030

Onyx 2048 F

Onyx 2064 F

Onyx 2077 F

Basic frame (m)

2.84 rigid

4.80 fold

4.80 fold

4.80 fold

Extensions (m)

2 x 0.12

-

2 x 0.8

2 x 1.45

Frame width (m)

2.84 / 3.08

4.80

6.40

7.70

Transport width (m)*

3.08

2.84

2.84

2.84

Linkage

Standard CAT. II

Row spacings available (cm)

45 - 50 - 60 - 70 - 75 - 76.2 - 80

Tines and share type**

A-tine with A-share and/or L-share OR  SC-tine with DF and HDF share

Weight for 50cm row spacing with finger harrow (kg)

763

1230

1565

1720

Min. HP requirement

60

100

110

120
Model

Onyx 3030

Onyx 3048 F

Onyx 3064 F

Onyx 3077 F

Basic frame (m)

2.84 rigid

4.80 fold

4.80 fold

4.80 fold

Extensions (m)

2 x 0.12

-

2 x 0.8

2 . 1.45

Frame width (m)

2.84 / 3.08

4.80

6.40

7.70

Transport width (m)* 

3.08

2.84

2.84

2.84

Linkage

Compact CAT. II

Row spacings available (cm)

12.5 - 15 - 16.6 - 20 - 25 - 30 - 37.5 - 40 -45 - 50 - 60 - 70 - 75 - 76.2 - 80

Tines and share type**

A-tine with A-share and/or L-share OR  SC-tine with DF and HDF share

Weight for 50cm row spacing (kg)

700

1080

1425

1575

Min. HP requirement

60

100

110

120
Model

Onyx 4081 F

Onyx 4092 F

Onyx 40121 F

Onyx 4081 FXL

Onyx 4092 FXL

Onyx 40121 FXL

Basic frame (m)

8.10 fold

Extensions (m)

-

2 x 0.55

2 x 0.55 & 2 x 1.45

-

2 x 0.55

2 x 0.55 & 2 x 1.45

Frame width (m)

8.10

9.20

12.10

8.10

9.20

12.10

Transport width (m)*

3.47

3.47

3.47

4.60

4.60

4.60

Linkage

Integrated Lynx 3000

Row spacings available (cm)

12.5 - 15 - 16.6 - 20 - 25 - 30 - 37.5 - 40 -45 - 50 - 60 - 70 - 75 - 76.2 - 80

Tines and share type**

A-tine with A-share and/or L-share OR  SC-tine with DF and HDF share

Weight for 50cm row spacing (kg)

2095

2430

3405

2150

2430

3405

Min. HP requirement

130

140

150

130

140

150
* Transport width may differ according to configuration options
** A-tine = adjustable straight tine; SC-tine = semi-curved vibrating tine; A-share= flat weeding share; L-share = lateral L-shape share; DF=duck foot share; HDF = half duck foot share left or right version
Finn en forhandler